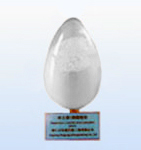 Magnesium Ascorbyl Phosphate
"He Yan"VC magnesium phosphate (MAP) Chemical structure and characteristics
Structure:
Chinese Chemical Name:Magnesium L-Ascorbyl Phosphate
  ◇CTFA Name:Magnesium Ascorbyl Phosphate
  ◇Molecular Formula:C12H12O18P2Mg3 . 10H2O(Molecular formula)
  ◇Molecular weight:759.22(To C12H12O18P2Mg3. 10H2O terms, the use of the international atomic weight table of 1987)(Molecular weight)
"And yan" VC fat magnesium phosphate (MAP) properties:
TEST

SPECIFICATIONS

1.

Description

White to the pale yellow powdery (odorless)

2.

Assay

3.

Loss of Drying

4.

5.

6.

PH(3%aqueous solution)

7.0-8.5

7.

State of solution(3% aqueous solution

Colorless to pale yellowish

transparent

8.

Color of solution(APHA)

≤70

9.

≤0.5%

10.

≤1%

11.

≤2.5%

12.

≤3.5 %

13.

≤0.35%

14.

Total aerobic coumt

≤100 per gram

15.

Packaging

1 kg aluminum foil bag, 5/10 kg carton, 25 kg barrel, according to customer requirements
Vitamin C vitamin C magnesium phosphate derivatives, vitamin C is to use modern science and technology as the raw material processing, the product, whether orally or absorbed through the skin into the body, can rapidlydigested by phosphatase to free vitamin C , vitamin C play unique physiological and biochemical functions.
With both vitamin C vitamin C magnesium phosphate all the effects. Vitamin C also overcome sensitive to light, heat and metal ions, easily oxidized shortcomings. As a nutritional additive widely used in various fortified foods,dietary supplements and beverages.
Magnesium Ascorbyl Phosphate is stable, has excellent oxidation durability, can effectively extend the shelf lifeof food, for a variety of canned, packaged foods and fresh meat products, color protection agent.
Vitamin C is a water-soluble magnesium phosphate whitening agent. This product is absorbed through the skin,can effectively resist UV rays, and can capture the oxygen free radicals, promote collagen production, can effectively prevent pigmentation, remove all kinds of skin pigmentation, can make the skin moist, soft white,bright and clean, and the Product stability, non-toxic, no stimulation, for the modern functional whiteningcosmetics, fine additives, cosmetic additives, the product as the main following features:
1, the system of tyrosinase activity, reduction of melanin, a whitening effect.
2, into the body to eliminate oxygen free radicals, which have wrinkles, anti-aging function.
3, and vitamin E have synergistic effect.
4, stable and easy to change color.
5, non-toxic, no stimulation.